Former Obama for America Staffers & Women-Owned Technology Company Launch Coworking Space to Lead Main Street Innovation Economy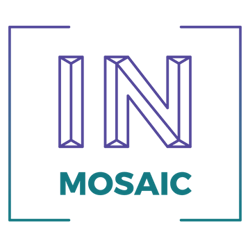 Bloomfield, NJ: New Jersey based and women-owned digital technology firm, Mosaic Strategies Group, today announced the opening of its new venture [IN]Mosaic, flexible workspaces for entrepreneurs, small businesses, and nonprofits. The inaugural location in the heart of walkable and historic downtown Bloomfield will launch with a grand opening celebration on Wednesday, April 25, 2018. Steps away from a 30-minute direct train to NY Penn Station, the modern space offers over 3200 sq. ft. of collective working spaces, private offices and meeting rooms for its diverse membership community to collaborate and innovate.
This new office and community space is designed to lead the local innovation economy being championed by local leaders, mayors, and New Jersey Governor Phil Murphy. As Americans, from baby boomers to millennials, return to historic main streets where small businesses have traditionally thrived, the mission of [IN]Mosaic is to help bridge the digital divide by providing vital resources to local entrepreneurs and freelancers.
"You don't need an angel investor to join us," said Francesca Dulce Larson, [IN]Mosaic Co-Founder and former staffer to US Senator Robert Menendez and Obama for America. [IN]Mosaic members receive access to state-of-the-art office space and infinite opportunities for networking across industries and perspectives at a scalable rate.
"We recognized the need for an intentional space that makes technology and entrepreneurship attainable for everyone, " said Larson. "Think of [IN]Mosaic as the inclusive response to the old boys network."
Coworking has become a billion dollar industry over the past five years. By 2020 more than 40 percent of the US workers will be freelancers, temps, independent contractors, and solopreneurs according to a study conducted by software company Intuit. Monthly members can expect to receive executive-suite level amenities and basic business necessities. [IN]Mosaic capitalizes on the successful coworking monthly membership model and extends its offerings to include launchpad services for business owners, such as HR bootcamps and marketing support.
"With the rise of the #metoo revolution and a clear need for more inclusive workspaces, the typical corporate culture is no longer a model for entrepreneurs and small business owners," said Co-Founder Vanessa Byrem-Tangy. "At [IN]Mosaic we're not only providing space, we provide tools to mold businesses that value their bottomline and their employees. By offering services and workplace education, we help new leaders create structures for happier, healthier, and productive environments."
[IN]Mosaic's progressive coworking model was inspired by learnings from the co-founders' original partnership, Mosaic Strategies Group (Mosaic STG), a digital agency for advocacy
organizations, nonprofits, startups and law firms. Mosaic STG's success in graphic design, website development, and technology has been contingent upon the company's firm belief that a healthy office culture spurs exceptional work. When Mosaic STG's leadership realized their agency's benefit offerings of 100% health insurance coverage, 401ks, and paid time-off were unusual for a small business the women-owned company began planting the seeds for [IN]Mosaic.
"We have seen dramatic increases in productivity and employee retention because we work together and invest in our team," said Geoffrey Borshof, [IN]Mosaic co-founder and Mosaic STG founder. "Our model may be unique today, but it should be standard operating procedure tomorrow. I'm proud of the safe space we have created and look forward to championing the achievements of our [IN]Mosaic members."
About [IN]Mosaic
Founded in 2018 as a women and minority owned to bring inclusive coworking spaces to historic downtown communities, [IN]Mosaic offers open-work desks, private offices, and meeting rooms through a scalable membership model. The venture's first location opened April 2018 in thriving Bloomfield, New Jersey. [IN]MOSAIC was founded by the partners of digital communications and advocacy firm, Mosaic Strategies Group.
About Mosaic Strategies Group (Mosaic STG / Mosaic)
With offices in New Jersey and Colorado, Mosaic STG is a full-service digital design and technology development firm that serves advocacy organizations, nonprofits, startups and law firms. Mosaic is powered by a team of hardworking professionals who bring their creativity and knowledge from an array of different backgrounds, cultures and languages. Mosaic is proud to be a women-owned business moving technology forward.
About the Owners:
*read our recent press release on nj.com!
---
Related Categories
Partner at Mosaic. As a certified inbound marketing specialist, I work with clients to devise and revise digital strategies to create positive growth for Nonprofits, foundations, issue-based initiatives, and service-based businesses.