Don't bust your budget! Tips from our development team on how to control your website project.
For most businesses and nonprofit organizations designing and building your website actually becomes one of your most important and prominent parts of your branding and marketing strategy. There are a lot of factors to consider. Some of these include; design, SEO, functionality, conversions, CRM integration, and cohesive branding along with the other moving parts of your marketing plan, and the final and largest decision is to consider your budget.
How much does a website cost? That is the number one question we get when we speak with a prospective client. Well, the answer is that it really depends on what you want. Websites can be built for all budgets. Simple websites can start anywhere from $2,000 and large complex custom sites can easily go above $75,000. But don't let that scare you. Your website is a financial investment that you are making in your organization, no matter what size budget you define. The key to getting a great website is to have a clear vision of what you want and to find the right team of people that understand that vision. With the right team, you can openly discuss roadblocks you may face during development and implement creative solutions.
Here are the top 3 problems that can push your project over budget and some tips on what you can do in order to avoid excess charges during your website project.
Problem 1: You haven't done your research.
Budget Buster: Lack of planning during the design phase causes out of scope charges during the website development phase.
The design phase is complete, you approved layouts, colors, fonts, images, and full page designs and now those approvals are sent to the development team to start their coding magic to bring your site to life.
"What if we did this, wouldn't that be neat?"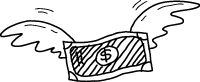 CHA-CHING! That question creates the sound of extra money being added to your project. After design, clients may not have as much communication during the development phase. So it is natural to start looking at other websites and getting ideas. However, what you think looks nice wasn't included in your approvals so changing design elements or functional elements is a major contributor to scope and budget expansions also know as "scope creep".
Plan. Don't rush into building your website. Take the time to think about how you want your site visitors to feel when viewing your content and images, define your design aesthetic, and how your site should function. What action do you want them to take when they come to your site for the first time?
Problem 2: You didn't carefully review the details of the project scope.
Budget Buster: The scope was not clearly defined or reviewed to include all desired functionality.
When a client doesn't carefully review the comp before "approving" and things are missing that are required, it can often be a big challenge to add it in after the project begins. Further, a comp often implies certain functionality, sometimes "big" functionality, so it is very important to be sure that functionality is clearly discussed, scoped, and defined. Attempting to splice in features / functions after work is done (or begun), is far more costly than if it had been planned and included from the beginning. Our team has many conversations with prospective clients. Having ongoing conversations during the project helps to reduce errors due to missing information.
A good way to avoid "scope creep" is to work with your vendor to have an exploratory contract. This is a small contract that functions to prep and organize for the larger development project. It gives the client a structured process to work through with the selected vendor to cover and collect details that are necessary to get the end product they are looking for. In addition, it allows your vendor to comfortably block out this time to spend with you and not rush because they need to balance between paying and non-paying activities for their business. Another upside is that many times the client will get a report that includes the details of the proposed project, road blocks that have been more thoroughly explored, and best of all you can assess if you like working with the vendor before you commit more money for the site. If they are not the right fit for you, you get to walk away with a clearly defined plan that you can present to another vendor which may actually reduce your website development costs.
Problem 3: You launched your website, now you want to make changes
This is one of the largest culprits that pushes the bounds of a project beyond its budget. From the perspective of a client, is that once content population is over often there are some development additions (i.e. a new section, button style, etc.). This typically happens because they (the client) did not consider or take into account content - whether that'd be text, images and other assets - prior to approving the site design. Content and design are two sides of the same coin in regards to the preceding stages of the website development process. Planning and amassing content should begin prior or parallel to the design stage.
Still nervous about building your new website? Don't be. Just make sure to speak with a couple different vendors and find one that you feel comfortable with. Assess if they can work with your budget, can come up with creative solutions, and you communicate well with each other.
Do you need to know how your site is performing or where you can improve to see if you can make changes to current site without an expensive rebuild? Request a website audit proposal today!
Are you ready to build your new website but still searching for the right vendor? Let's connect and see if our team is a good fit. Request a website quote for your project and let's discuss the details.
Related articles:
Website Audit: Is this a new craze or worthy investment?
How to Choose Between Traditional Web Design and Growth-Driven Design
---
Related Categories
this is who I am and what I am about.