REACHING THE RIGHT AUDIENCE TO INCREASE ENROLLMENT
Marketing and PR tactics for schools over the last couple of years have been changing rapidly. The majority of marketing funds for schools in the past have been allocated to printed materials such as direct mailers, brochures, flyers, or various other collateral. However, what do you do when you pull stuff out of your mailbox? I know that most of the stuff I receive goes into the garbage (recycling bin in my house) without even getting a glance. The main goal of printed materials has been to get people to visit the school to take a tour. Now, how much did you spend on that printing last year? It may be time to rethink how you allocate that budget.
So what has changed? Well, let's take a journey into the path of a student or parent looking for the right school. It all starts with online research. They may look for geographic location, schools that excel in a certain program, school size, cost, and various other criteria.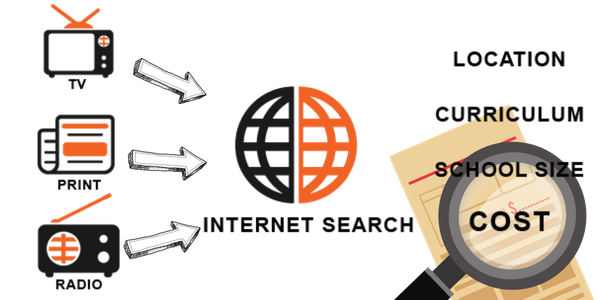 How do you stand out and find the right people to market in order to boost your school enrollment? Take time to survey current students and parents. Get to know them, their interests, why they chose your school, and hone in on the common denominators. Use this data to craft your buyer persona, or what I like to call your student persona. I recommend that you create a minimum of three personas. These personas each have a unique story and are semi-fictional representations of a student or parent based on the data you collect from your surveys.
Now that you have defined your audience it's time to define your team. The team that you assemble will have ongoing tasks such as writing and designing materials and images that resonate with your personas, keyword research to maximize SEO and SEM impact, creating blog posts, digital newsletters, landing pages to convert leads, devising lead nurturing workflows, and customized email campaigns that may also include marketing automations. Depending on the digital strategy your team has devised there may be additional projects that align with the organization to facilitate in the goal strategy.
Three important considerations for your digital strategy:
Facilitate a goal setting session so that your team is on the same page and can work in tandem to outline activity tasks that drive your goals.
Spend time to create a content calendar for consistent release of materials to your target audience.
Have meetings between your marketing and recruiting teams to ensure your messaging aligns to your target audience and that both departments are aligned in their efforts to so that the departments work in tandem.
What is a content calendar?
Now that you have taken the time to define your personas for your target audience it time to strategically plan your content that will appeal to that audience and drive them to your landing pages, website, and other areas of your site to request tours and additional information. I suggest picking two projects to focus your content on at the beginning for your marketing efforts. The two with the largest impact are your blog and your newsletter.
Set up a spreadsheet that you share with your team and plan out your blog post and newsletter topics, the keywords that you will include or focus on for each topic, and the dates for these items to be completed over a 3 month time period.
Offer : Learn How An Inbound Marketing Campaign Can Increase Your Enrollment
Then jump in. Over the first 3 months you find that you start getting into a rhythm and it will become easier for you to calendar and create your content. Your team will continually refine your content development to appeal to people in different stages of their enrollment journey from general interest or information to those that are looking to make a decision and just trying to find the right answers to their questions to choose the right school for their child. You will also find that your organic searches will start going up because you are delivering content to a group of people that are searching for it and combining that with keywords that they are searching for. This creates a road map or cookie trail right to your organization.
Now, it's time to take it to the next level by moving on to a comprehensive content map that aligns with your enrollment journey stage. We will discuss this in our next blog post as we explore the enrollment journey.
Want to get notified when the next article is ready? Subscribe for our blog post notifications.
Related Articles:
School Communication With A New Generation of Parents
Private School Marketing For Principals and Program Directors
What's Your Data And Digital Strategy
Partner at Mosaic. As a certified inbound marketing specialist, I work with clients to devise and revise digital strategies to create positive growth for Nonprofits, foundations, issue-based initiatives, and service-based businesses.