A Website Audit Improves Site Conversions Across All Industries
Your website is an investment, no matter if it is a professional or personal website. You either invest time or you invest money, many times it's both. You want people to see your website and use it as a primary tool for your marketing, business, or outreach plan. That plan may be different based on your organization. For nonprofit organizations it may be to raise money or to boost engagement and attendance to community events. If you are a business owner or service based firm, it would be used as an avenue to increase sales and attract new clients. For issue-based initiatives such as environmental and social justice campaigns, among others, it is a way to build your movement.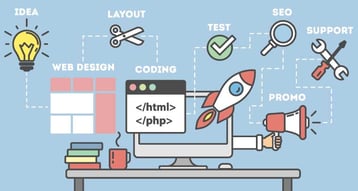 So what is all the chatter about getting a Website Audit? It's a catchy term, but it's not a new concept. As a matter of fact, you may have heard it referred to as a "Website Review" or a "Website Analysis".
Wikipedia defines a website audit as:
a full analysis of all the factors that affect website's visibility in search engines. The standard method gives a complete insight into any website, overall traffic and individual pages. A website audit is completed solely for marketing purposes. The goal is to detect weak points in campaigns that affect web performance.
Conducting a website audit can uncover a plethora of site issues such as a high number of page requests that can slow down your load times, identify if you need to remove or defer JavaScript and CSS that may be interfering with loading your above-the-fold content, and missing or not well structured meta descriptions just to list a few.
If a main goal is to get conversions for sales or donations on your website then a website audit can be a crucial part in reviewing your site architecture. Reviewing the functional aspects and visual appearance of the site can uncover your site conversion issues. Making sure you have optimal site conversion to grow your database is the backbone to the digital strategy. Many nonprofit organizations integrate this data capture directly to their CRM in order to trigger internal workflows for their team so that they can optimize their outreach and fundraising more efficiently. Therefore, it is critical that their website is functioning at optimal levels.
Should you use an automated tool or hire a professional?
There are a lot of automated tools out there to use. Here is a short list that you may find helpful.
Automated tools are great. It gives you a good baseline to know if you need to do some work to make sure your site is running optimally and gives great feedback on what you may need to do to fix things. But you may find that you don't completely understand all the terminology or what these tools are telling you to fix. Don't worry you are not alone. This is where a professional comes in. If you already know that you need to fix some items, it gives you better footing to have that discussion with a professional to have them perform a more extensive audit process. It also allows you to better evaluate the professional you are speaking with to determine if you want to hire them.
How Much Does A Website Audit Cost?
Great question. I have always been in the full belief that you get what you pay for. But that doesn't mean you should overpay for the service either. A website audit can vary in cost and the range depending on the size of your site. The average cost tends to fall between $2000 and $5500. If you have a very large website then you can see prices that are well above that. However, if your site is less than 10 pages a reasonable cost falls in the range of $500 to $1000.
If you have invested the time, energy, and effort into making your website an integral part of your marketing strategy then it is wise to invest in getting a website audit to maximize your return.
Improve your website by getting a website audit.
Related articles:
Graphic Resources That Save Time & Money In Design Procees
What's Your Data and Digital Stratgy?
Partner at Mosaic. As a certified inbound marketing specialist, I work with clients to devise and revise digital strategies to create positive growth for Nonprofits, foundations, issue-based initiatives, and service-based businesses.