Are you ready for prime time fundraising? 5 stages to a successful year-end campaign
Year-end appeal, or here at Mosaic, what we like to call YEA! We love the end of the year not because it's the holiday season, great food, and excessive candy to consume but because 30% of annual online gifts are made during the holidays. As a matter of fact, did you know that Nonprofits receive 50% of their annual donations between October and December? In addition, people also tend to give 80% larger gifts.
In order to run a successful year-end campaign simply asking your audience just isn't enough. Your appeal, notice that we use the word "appeal" frequently, needs to really stand out. Why? Because you must connect with your donor audience and make a clear and compelling case for giving. But crafting that message isn't the first stage to success, evaluating and preparing your campaign plan to execute lays the groundwork.
5 Stage Process to a Successful Year-end Campaign

Let's focus on stage 1, Evaluate and plan your fundraising campaign
Evaluate and plan is really broken key activities
Evaluate past campaigns
Brainstorm
Plan activity strategy
Prep. Collect all necessary assets to be used in stage 2, curate content and messaging
Evaluate your past campaigns
Learning from your past mistakes can be a valuable lesson. They say the definition of insanity is doing the same thing over and over and expecting a different result, right? So carefully analyzing past results can separate what did not work (no need to try that one again), what kind of worked to evaluate what you can do to make it better and build on it, and successful pieces that you know you will incorporate into the new plan. Meeting with your team to review this is crucial and will start sparking new ideas at the same time.
Here are some key items to consider:
What was your donation page conversion rate? If the donation page conversion rate was low make a list of what you feel was the problem, like was it to complicated, long, or asked too much information causing your target audience to navigate away before they completed it? Was it to hard to find because there were not enough action items on other pages of your website that navigated your audience through the journey to the goal line? Did your donation page lack visual "appeal" and did not create that emotional connection with the viewer? Make note of these items to discuss at a standalone brainstorming meeting.
Focus on the home run items that worked during the campaign. List out the social posts, emails, web pages that received the highest level of engagement. This tells you that your community loved the style or content and keep them as samples to utilize the writing and image style to apply to your new campaign. Did a certain part of your campaign excel, like a matching gifts program or specific scheduled event? What was the time of the day and day of the week where your donations were the highest? Hone in on when (time of day) and how (activity on different platforms) your audience is responding and build engagement activities to occur at that time.
Review your technology, like your website. Is it current? Do you have a place that is highly visible that you would want to feature your appeal?
Now you have outlined very detailed pieces that you can brainstorm for ideas.
Brainstorming
This is where you work with your team to take all those items you analyzed and create your task list for the solutions. This is a good opportunity to further define your program goals and fundraising goals for 2018.
Offer: How to create buyer personas to get more donations from supporters, free template
Plan your activity strategy in conjunction with your targeted goals.
What are your program and fundraising goals for 2018? Clearly defining your goals will help you to direct your time and resources during your campaign. TopNonprofits.com has a great article on top tips to prepare your nonprofit and includes questions you can ask your team in order to determine those goals and then strategize around them.
Finally, It's time to prep!
Preparing can make all the difference. Here is a list of items to consider:
Do you have leftover swag that you can use that is relevant to your campaign?
Collect all the assets that your community responded to, remember IMAGES! Include your favorite images that are original, relevant and NOT stock so that you engage with empathy.
Prepare your communication strategy by segmenting your donor database and creating your communications and content calendars.
Optimize your online donation process so you are ready to process onetime and recurring donations.
So, how well have you executed stage one? Subscribe to our blog to be notified whdn stage two is published to curate and message.

Related Articles:

Nonprofit Organizations Boost Donor Acquisition and Online Fundraising
What's Your Data and Digital Strategy?
Social Selling Impacts For-profit and Nonprofit Alike
Data That Successful Nonprofits Track
Social Media Strategy for Nonprofits 101
---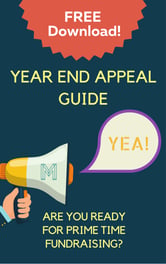 Interested in reading more? Get the Year End Appeal Guide as a FREE download today!
---
Partner at Mosaic. As a certified inbound marketing specialist, I work with clients to devise and revise digital strategies to create positive growth for Nonprofits, foundations, issue-based initiatives, and service-based businesses.